Did you know lack of light and inability to power electrical devices is a challenge faced by millions every day?
840 million people globally live without access to electricity.
Residents of Have-Tornu village in the Volta region of Ghana told us they spend a quarter of their income on batteries to provide light after 6pm. Lack of light makes it difficult for children to do homework, limits livelihoods to daytime hours and restricts basic healthcare, even causing babies to be delivered by candlelight.
Indeed only 65% of Ghana's rural population have access to electricity, compared to 90% of the urban population. Whereas in Malawi only 10% of the rural population have access to electricity compared to 55% of the urban population.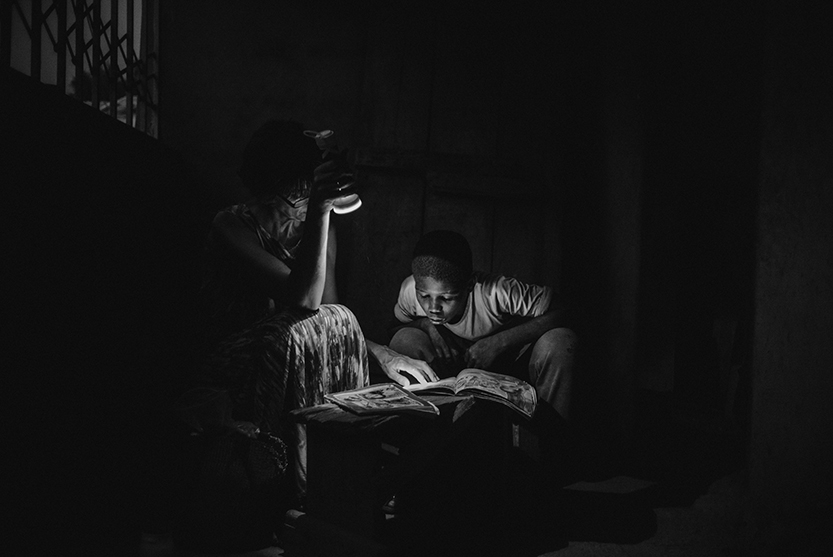 Homework by torchlight in Ghana where the sun sets around 6pm all year (Ghana, 2017)
Conversations with a range of individuals and organisations around the world catalysed us into exploring the technical and socio-economic viability of creating solar charging hubs, a concept we've named Solar Light Exchange.
In 2019 we sent a prototype Solar Exchange kit to Have-Tornu in Ghana's Volta Region, containing a solar panel, rechargeable batteries and phone chargers. We have continued to collaborate with our partner, Love Ghana, and the communities where they work, to further develop the Solar Light Exchange in order to provide more affordable and environmentally sustainable access to light for life.
CREATIVenergie is partnering with the Scottish Charities Love Ghana and The Kerusso Trust to establish Solar Light Exchanges in Ghana's Volta Region and within Malawi to help rural communities access solar powered sources of light. We are grateful to everyone that supported our Big Give Christmas Challenge 2020 and the match funding from Friends of The Reed Foundation, which raised over £10k towards setting up these two Solar Light Exchanges during 2021. We will also set up another two in Uganda as part of the Bitesize Energy Exchange project.